Southern Concrete Materials Weaverville, NC.
Originating in 1958, Southern Concrete now operates about 30 Ready Mix Plants in North Carolina, Tennessee and Georgia. They have been a Highland customer for many years and they recently painted 2 of their RMC facilities with our Dry-Fall coatings and plan to paint another this fall. The plant in Weaverville, NC is in close proximity to a business district and their concern about overspray problems led them to choose Highland Dry-Fall Coatings. Paint overspray from Highland Dry-Fall coatings is powder dry within 10-20 feet from point of application and paint overspray wipes off without chemicals or buffing. While painting was in process, the facility remained open. Matthew Mitchell of Mitchell Industries, was exuberant about the performance of Highland Dry-Fall coatings: "Southern Concrete was running at full capacity and we just kept working!. We are very happy with Highland Dry-Fall Coatings." Mitchell Industries specializes in painting RMC plants, HMA plants, quarries and fuel tanks… all heavy industry facilities: "Highland is my #1 coating supplier!" Overspray from all of Highland's Dry-Fall Coatings is powder dry within 10-20 feet from point of application eliminating paint overspray damages.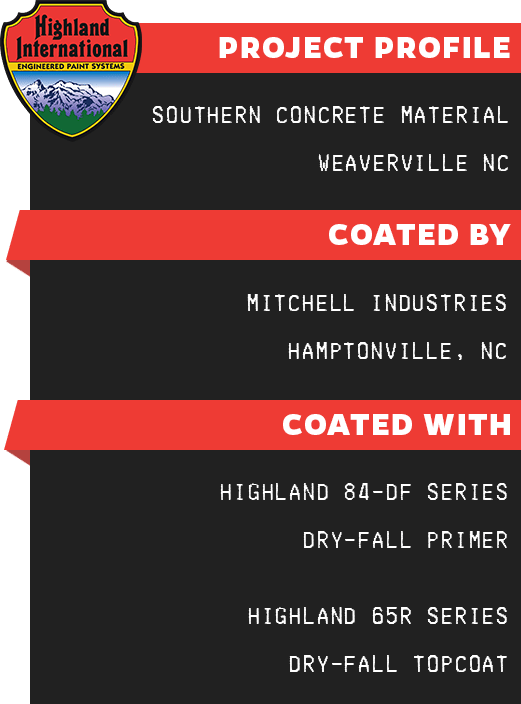 Got a Quick Question?
For any questions, send us a message and we will get back to you as soon as possible with all of the information you need to get started.