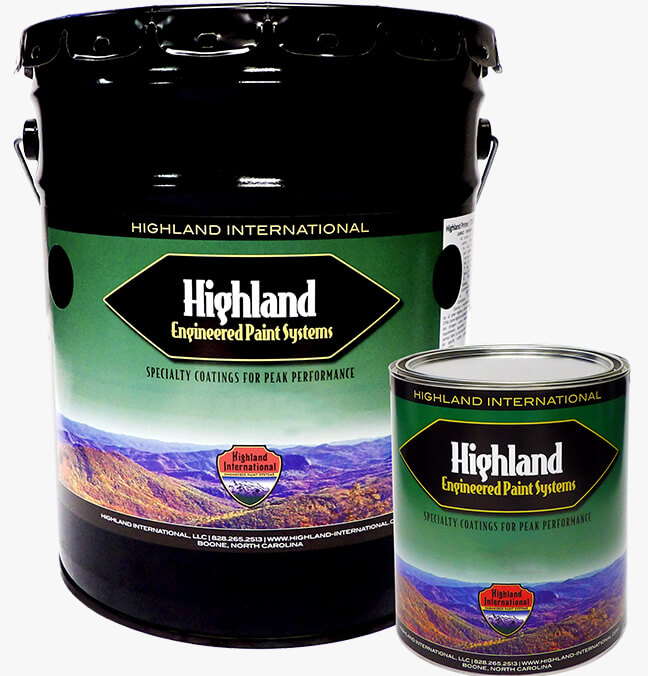 77-SP Series
Industrial Automotive Primer
Highland 77-SP Series is the latest in industrial automotive primer coating technology. To Start, it features fantastic corrosion protection. Additionally, this industrial automotive primer is highly surface tolerant. It may be applied direct to metal, body filler, and existing finishes. No etching primer is required. 77-SP Series easily outperforms alkyds, lacquer based coatings, and competitor epoxy primers. It is the perfect industrial automotive coating for asphalt pavers, milling machines, mixer trucks, rail cars, and other fleet equipment. 77-SP Series is the primer in our DuraCoat industrial automotive paint system.
Industrial Epoxy Resin
77-SP Series is based on a unique industrial grade modified epoxy resin. To be more specific, it is a polyamide epoxy. This unique resin is the key to top-tier performance. 77-SP Series combines industrial performance with automotive looks to create a unique industrial automotive coating. Furthermore, this unique resin promotes extreme corrosion resistance. Increased corrosion resistance translates to fantastic service life even in harsh environments.
No Mid-Coat Required
77-SP Series primer makes the coating process easier. It does this by eliminating the need for an etching primer or a mid-coat. 77-SP wets out to an ultra-smooth surface. This unique feature sets it apart from competitor industrial automotive coatings. It promotes a premium topcoat look with no mid-coat or sanding required.
Ultimate Topcoat Holdout
What is topcoat holdout? Topcoat holdout refers to the gloss level of the topcoat after final application. A primer that is topcoated too quickly will literally suck the gloss out of the topcoat. This can cause the topcoat to look dull, and take away from the overall beauty of the system. To combat that, we have increased the gloss in the 77-SP series to a semi-gloss finish. As a result, 77-SP series can be topcoated in just 30 minutes with no loss of gloss in the topcoat.
Easy to Use
77-SP Series was formulated to be easy to use. Any painter, from novice to expert can achieve a fantastic looking, long lasting finish.
Available Colors
Got a Quick Question?
For any questions, send us a message and we will get back to you as soon as possible with all of the information you need to get started.