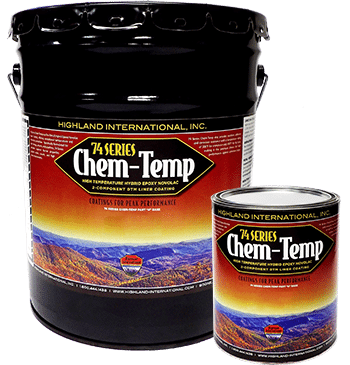 74-IS Series
300ºF PIG Applied In-Situ Epoxy Novolac Coating
Highland ChemTemp 74-IS Series is a unique chemically resistant in-situ epoxy novolac coating. It is specifically designed for application via pipeline PIGs. Formulated to outperform competitor products in the same category, 74-IS packs some fantastic features. To start, 74-IS showcases maximum chemical and heat resistance at a relatively thin film thickness of 8-16 mils TDFT. In addition, 74-IS Series features low temperature cure capabilities. A full cure can be achieved in temperatures as low as 20°F. Furthermore, this in-situ epoxy novolac coating can withstand harsh chemical immersion in temperatures up to 300°F. Continue reading below for more information on this unique in-situ epoxy novolac coating.
The Benefits of In-Situ Epoxy Novolac Coatings
The in-situ PIG application process is the latest in pipeline rehabilitation technology. This unique process allows for full maintenance coating jobs without the need for pipeline extraction. Eliminating the need for extraction can save millions of dollars on pipeline maintenance jobs. You can learn more about this unique process by watching the video in the "In-Situ Application Video" tab below.
Low Temperature Cure
74-IS Series was specifically formulated to allow for extremely low temperature cures. See the chart below for cull low temp cure capabilities.
Got a Quick Question?
For any questions, send us a message and we will get back to you as soon as possible with all of the information you need to get started.